Thank you for a great year! As we finish our last week I would like to remind you of a few things.
Report Cards 
Will go home this Friday 6/22 after school closing. If you are not going to be here for school closing Email me at Shuizing@gcspei.ca so I can send you a pdf.
Summer ESL Packets will go home this Friday 6/22 IF your student is  ESL next year. Remember students should read in English out loud and keep a summer writing journal to continue practicing English language skills.
FAMILY FUN DAY
Thursday, June 21st will be our annual GCS Sandspit day! The ride bracelets this year will be $13.00 per person and allow for all rides except the go karts; all parents are required to pay for their own bracelets. When purchasing bracelets, let the cashier know you are with the GCS group.
Hours of operation are from 9:30am-3:30pm. This is a great opportunity for you to come and enjoy your children and the fellowship of other parents. You are reminded that there is no supervision by GCS staff and each parent is responsible for either attending with their children or making provision for their children to be cared for.
If Sandspit is closed due to rain/poor weather, there is NO SCHOOL on that day (June 21).
The address for Sandspit is 8986 Cavendish Rd, Cavendish, PE.
SCHOOL CLOSING
Friday morning is our annual School Closing day for grades 1-11.  Students are to arrive at the regular time (before 9am); the closing ceremony will begin at 9:30am.  Parents are welcome to attend as we celebrate the accomplishments of this past year.  Students will receive their report cards AFTER the ceremony is complete (approximately 11:30am) and students are to be picked up before noon.
Please note Mr. Biech's end of year B-B-Q is for staff only. 
The ELL Office will be closed
July 16 – 30. I Will NOT be checking my emails at this time – VACATION! 🙂
FIRST DAY OF CLASSES 2018-19
For those of you excited to start school again next year, the first day of classes of the 2018-19 school year is Thursday, September 6!  For more event dates, please see the school calendar at https://www.gcspei.ca/alumni-parents/monthly-calendar/
Thank You! 
Thanks to our efforts we raised over $18, 000 for the ELL scholarship. This year's $2500 scolarshipaward went to grade 12 student Kristia Deng. We are so proud of her efforts.
Thank you for a great year and all of your support. Your children worked so hard on their English language skills and being part of the GCS family. I am so blessed to be a part of your life!
Enjoy the summer.
感谢你们又陪伴了我们一年!当我们一起度过我们最后的一周时,我想提醒你们以下一些事项。
报告卡
将于这个周五6/22学校关闭后发放。 如果你周五不在这里的话,请给我发电子邮件Shuizing@gcspei.ca, 我可以给你发一个PDF格式的电子版
夏季ESL信息包
如果你明年将会是ESL学生,信息包将于这个周五6/22发放。请记住,应该大声朗读英文,并暑期间写作日记,以继续练习英语语言技能。
家庭娱乐日
星期四6月21日将是我们的年度GCS Sandspit日!今年的手镯将会是每人13.00美元,并允许游玩除卡丁车之外的所有游乐设施;所有父母都必须为自己的手镯付款。购买手镯时,让收银员知道您在GCS团队中。
营业时间为上午9点半至下午3点半。这是一个很好的机会让你来享受你的孩子和其他家长的团契。请注意,GCS工作人员将不会在一旁监督,每位家长都有责任与孩子一起游玩或为孩子提供照顾。
如果Sandspit由于下雨/恶劣天气而关闭,那天(6月21日)没有学校。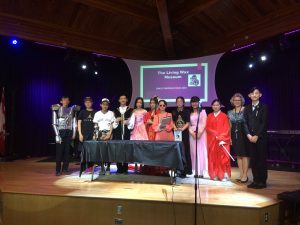 Sandspit的地址是 8986 Cavendish Rd, Cavendish, PE
学校关闭
星期五上午是我们每年1-11年级的学校闭幕日。学生将在正常时间到达(上午9点之前);闭幕式将于上午9:30开始。欢迎家长准时出席,庆祝过去一年的成就。在仪式结束后(大约上午11:30),学生将收到他们的报告卡,学生将在中午之前被接走。
请注意,Mr. Biech 的年底B-B-Q仅限于员工。
ELL办公室将被关闭
7月16日至30日。我将不会在这个时候查看我的电子邮件 – 假期旅行! 🙂
2018年至2019学年开学第一天
对于那些明年再次入学的人,2018-19学年常规课的第一天是9月6日星期四!有关更多活动日期,请参阅学校日历,地址为https://www.gcspei.ca/alumni-parents/monthly-calendar/
谢谢!
由于我们的努力,我们为ELL奖学金募集了18,000多美元。今年的2500美元奖学金颁给了12年级学生 Kristia Deng。我们为她的努力感到自豪。
感谢你对这个极好的一年所有的支持。你的孩子(们)在英语技能上非常努力和成为GCS家庭的一员。我非常幸运可以成为你生活的一部分!
享受这个夏季吧!