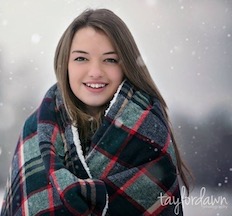 ABBEY
Abbey Thomson is a GCS Alumni that has a talent and passion for art. Her interest in art began with Bible journaling and simple canvases. From there, Abbey realized that her talent could possibly grow into something bigger. She began with supplying her mothers Christmas craft store, Star & Stable, with various types of canvas art. After realizing the high demand for canvas and word art, especially customized pieces, Abbey decided it was time to start up her own small business.
In the early spring of 2017, Abbey launched her Facebook page for her business "The Freehand Artisan". Since then she has been busy with orders and requests from customers looking to purchase some of her work. Abbey taught grades three to six how to master word art for their Bible journaling activities in their Bible classes.
She is currently attending NBBI with hopes of returning to GCS is the future to use her passion for ministry and art.