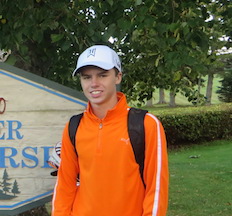 JONAH MACMILLAN
Jonah MacMillan, who was a Grace Christian School student from 2003 – 2016, has a passion for sports which was fostered during his time at GCS. Throughout his 13 years attending the school, Jonah took part in various school sports such as soccer, basketball, track & field, cross country, volleyball, and golf. While in Grade 12, Jonah also served as the intramurals coordinator for lunchtime sports. In addition to school sports, Jonah played AA hockey and premier soccer.
During his final years of high school, Jonah competed in the Senior "A" Men's Golf for provincial schools. This was one of the sports he was most passionate about and had hoped to someday be a provincial champion. In his grade 12 year, Jonah won the title of Senior "A" Men's Golf Provincial Champion. He was very appreciative of this title, as there had been much hard work and determination to get there.
Jonah's love for sports, and golf, did not end after his time at GCS. Jonah has a diploma in Golf Management from Holland College and currently working at a golf course on PEI. He is very thankful for his time at GCS and the teachers and coaches that invested in all aspects of his life and helped him pursue his goals in athletics.