It is hard to believe that we are at Spring Break. This is always a time that I realize that we do not have much time left with our students. It means the end of the 3rd quarter and the start of a very busy 4th quarter for your students. It means re-registration, celebrations, saying goodbye to old friends and hello to some new.
Below are some dates save, some important assignments coming up, and some policies & procedures to remember.
April 4 – Back to School after Spring Break
April 6.- Grade 7&8 ESL have TWO HUGE assignments due.
Independent reading project that is due for ESL class & Heritage Fair
April 6.- Grade 10 ESL have Independent reading project that is due for ESL class
April 7 – Moms & Dads class begins. 11:00 – 12:00 in room 202.
April 9 – Heritage Fair Students from Grades 5-9 will be judged for Heritage Fair projects to select school representatives for the Provincial Heritage Fair in May
April 19 –  3rd Quarter Report Cards go home /  Parent –Teacher Conferences pm.
April 20 – Parent – Teacher Conferences
April 27 – A Knight to Remember celebration
April 30 – All re-registration is due for English Language Learners
May 5 – Family Fun Run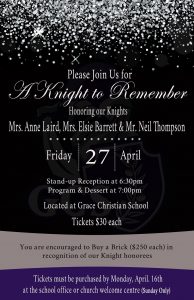 Did you buy your tickets for A Knight to Remember? They are available at the school office! This is a
celebration of the significant contributions of Anne Laird, Elsie Barrett, and Neil Thompson throughout their years of service at GCS thus far. The event is taking place on Friday, April 27th starting at 6:30pm and tickets are $30 each. We hope to see you all out to show your support.
Also, regular Seesaw practice EVERY day is also required… this ESL practice should not take longer than 50 minutes a day.
We are an English speaking school. Students that do not respect this rule will be sent home immediately. Please remind your student at home about this important policy.
Finally, do you have a family member that is interested in coming to GCS? Our classes are filling up quickly for the 2018 – 2019 school year, even with the building expansion. We try to accommodate every current family's needs, please make sure you contact Doctor Huizing at Shuizing@gcspei.ca about the application process immediately.
Thank you and have a GREAT SPRING BREAK!